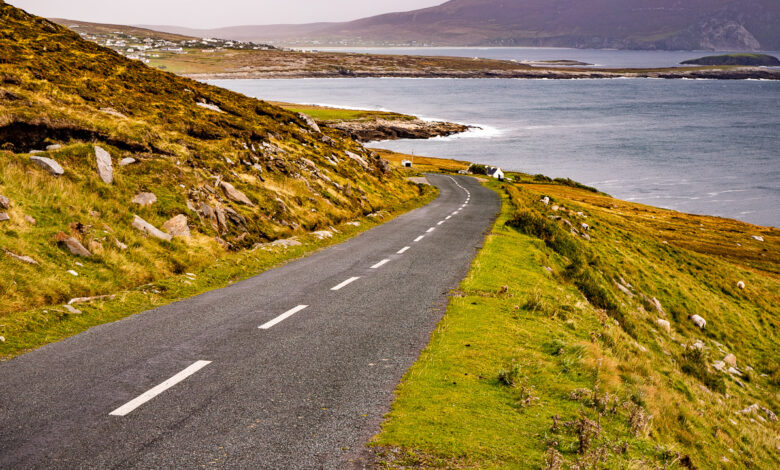 Introducing Achill Island, Ireland's largest Offshore island (See, Eat, Do)
Achill Island is one of Ireland's most intriguing destinations. Located off the west coast of County Mayo and measuring 20 kilometers in length and 12 kilometers in width, it's the largest offshore island in Ireland. This rugged Atlantic island is a unique and beautiful place, and it's no wonder why famous artists and writers have been drawn to Achill Island over the years.
There's plenty to see and do on Achill Island. From stunning landscapes and ancient ruins, to traditional music and tasty seafood, here are some of the top things to experience on the island.
See:
The rugged landscape on Achill Island is truly spectacular. There are numerous hiking trails on the island, but one of the most popular is the Great Western Greenway. This 42-kilometer trail is a designated National Waymarked Trail and runs from Achill Sound to Westport. This trail boasts incredible views of the mountains, lakes, and beaches.
If you're interested in art, you won't want to miss the Paul Henry Trail. This short loop walk (approximately five kilometers) takes you through some of the most beautiful and inspiring locations that artist Paul Henry painted when he lived on Achill Island in the early 1900s.
Another must-see is Achill Island's Blue Flag beaches. Keem Bay, in particular, is a unique and stunning location. It's a sheltered, white-sand beach surrounded by cliffs, making it a perfect location for swimming, snorkeling, and sunbathing.
Eat:
Seafood is a staple on Achill Island. There are numerous seafood restaurants in the area, but two stand out for their quality and fresh caught seafood. The first is The Chalet, known for their traditional seafood chowder and locally caught fish and chips. The second is The Pure Magic Lodge, an award-winning restaurant that sources all of their seafood from local fishermen.
If you're a lover of all things sweet, you won't want to miss the Achill Island Sea Salt Caramels from Kelly's of Achill. This small, independent company makes delicious caramels infused with natural sea salt from the surrounding area.
Do:
One of the most unique things to do on Achill Island is to take part in a traditional music session. There are numerous pubs and venues on the island where local musicians gather to play traditional Irish music. Join in the fun, grab a pint, and listen to the lively tunes.
For those interested in history and culture, there are several ancient sites on Achill Island worth visiting. The most famous is the Deserted Village, a group of abandoned stone cottages that date back to the 18th and 19th centuries. Another must-see is the Kildownet Cemetery, an ancient holy place that dates back to the early Christian period.
For those looking for adventure, there are numerous water-based activities on offer, including kayaking, surfing, and kiteboarding. Pure Magic is a great starting point for those looking to try out kiteboarding and offers lessons and equipment rentals for all skill levels.
In conclusion, Achill Island is a unique and beautiful destination that captures the heart of all who visit. With plenty to see, eat, and do, it's no wonder why people keep coming back year after year.