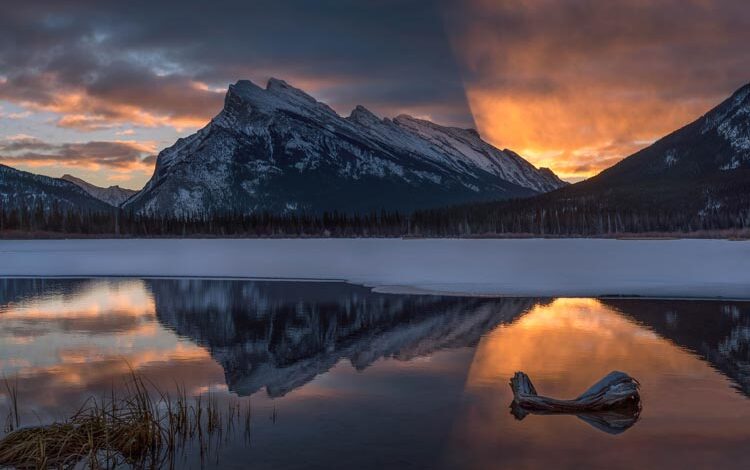 Canada is a beautiful country with many breathtaking destinations to explore. One such destination is Banff, located in the province of Alberta. Banff is a picturesque town nestled in the heart of the Canadian Rockies and is famous for its stunning natural beauty. In this article, we will take you on a visual journey through Banff, showcasing some of the most beautiful sights and experiences that this town has to offer.
Lake Louise
One of the most iconic destinations in Banff is Lake Louise. This turquoise glacial lake is surrounded by snow-capped mountains and is a must-see for anyone visiting Banff. The lake is especially beautiful in the summer months, when the water is crystal-clear and reflects the stunning surrounding scenery. Visitors can take a leisurely stroll around the lake, enjoy a picnic on the shore, or even rent a canoe to paddle across the water.
Moraine Lake
Another stunning glacial lake that should not be missed is Moraine Lake. This lake is smaller than Lake Louise but is just as breathtaking. The water is a vivid shade of turquoise and is surrounded by towering mountains and lush forest. Visitors can hike around the lake or simply sit back and take in the awe-inspiring scenery.
Banff Gondola
For those who want to experience the beauty of Banff from above, the Banff Gondola is a must-visit. The gondola takes visitors on a breathtaking 8-minute ride up to the summit of Sulphur Mountain, where they can enjoy panoramic views of Banff and the surrounding mountains. At the summit, visitors can also explore the boardwalk and observation decks, as well as grab a bite to eat at the summit restaurant.
Banff Springs Hotel
The Fairmont Banff Springs Hotel is an iconic landmark in Banff and is often referred to as the "Castle in the Rockies". This stunning hotel was built in 1888 and has been a popular destination for tourists ever since. Visitors can take a stroll through the hotel's grand halls, admire the stunning architecture, and enjoy a meal or drink at one of the hotel's prestigious restaurants or bars.
Wildlife Spotting
Banff is home to a variety of wildlife, including elk, deer, bighorn sheep, and even grizzly bears. Visitors can take guided tours to try and spot some of these magnificent creatures in their natural habitat. Wildlife sightings provide a unique and unforgettable experience for visitors to Banff.
Hiking
Banff has a vast network of hiking trails that cater to hikers of all skill levels. From easy walks around lakes to challenging hikes up mountains, there is something for everyone. Some popular hiking trails include Johnston Canyon, the Plain of Six Glaciers, and the Valley of Ten Peaks. Hiking in Banff provides the perfect opportunity to get up close and personal with nature and witness the stunning beauty of the Canadian Rockies.
Icefields Parkway
The Icefields Parkway is a 232-kilometer-long highway that connects Banff and Jasper National Parks. This scenic route offers breathtaking views of glaciers, lakes, and mountains, and is considered one of the most scenic drives in the world. Along the way, visitors can stop at various scenic viewpoints and take in the awe-inspiring scenery.
Conclusion
Banff is a truly stunning destination with endless natural beauty to explore. Whether you are looking for outdoor adventures, relaxation, or simply want to take in the stunning scenery, Banff has something for everyone. From glacial lakes to towering mountains, Banff is truly a photographer's paradise. We hope that this visual journey through Banff has inspired you to add this beautiful destination to your bucket list.